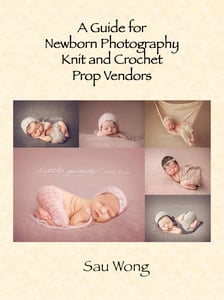 $

19.95 - On Sale
THIS IS A DIGITAL E-DOCUMENT/ WRITTEN GUIDE FOR NEWBORN KNIT AND CROCHET NEWBORN PROP VENDORS. YOU WILL BE E-MAILED THE GUIDE WITHIN 24 HOURS OF PAYMENT.
DESCRIPTION:
This digital Guide is essential if you are just starting out in the newborn photography knit and crochet prop world or have been a knit and crochet prop vendor for a relatively short time.
I have more than 5 year's experience in the prop vendor industry, specialising in knit and crochet newborn photography props. During that time, I established a very successful prop business, called Monkey Moo Moo. In this Guide, you will learn how I achieved my success and also how to avoid some of the mistakes I made when I was starting out.
This Guide is a 53 page document that you can download and print.
The contents include some of these topics:
Setting Up a Business
Start-up and Ongoing costs
Choosing the products to create
Market research
Taking your own photos
How to work with photographers
Types of yarn
AND much much more!
Here are some quotes from vendors who have read this Guide:
"There is so much information that is useful and applicable to new vendors"
"The content is wonderful"
"An amazing resource"
"Great, great, great Guide!"
"I really do wish I had read this sooner!"
NOTE: This is not for prop vendors selling other types of props such as buckets, furniture, fabrics, up-cycled clothing, hand stitched props. This is for KNIT and CROCHET prop vendors. This also does not include information for older babies, children or adults. This is Guide is only for NEWBORN sizes.
Shop Policies and legal stuff:
Due to the nature of the digital Guide, it cannot be returned for a refund or exchange. All purchases are final.
Copyright © 2016 Sau Wong
All rights reserved. This Guide is protected by Copyright Law. Please do not copy, share, reproduce, publish or distribute all or part of this document in any form. This includes digitally, electronically and hard copy.